Exciting Health Innovations emerging out of Africa!
In honour of world Health Day we wanted to celebrate remarkable health innovations coming out of Africa in the last year. From mobile health clinics, to pregnancy tracking apps, this last year has been a real success in terms of health care advances emerging from Africa.
One innovation in particular that has achieved amazing progress towards the Millennial Development Goals set by the UN, is the drone project launched by Zipline, in Rwanda. This project, launched in June 2016, created unmanned aerial drones to deliver small packages to rural areas across Rwanda.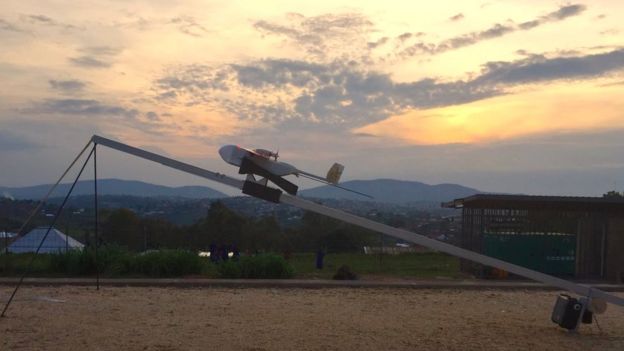 Drone about to take off (Image from BBC News)
With a population of around 11 million people, Rwanda, also known as the land of a thousand hills, has many hard-to-reach areas, which means that these drones have the ability to provide lifesaving supplies to thousands of people. The project primarily aims to deliver blood and emergency medicine, and by bypassing traffic or washed-out roads, it can get there faster than current methods such as land vehicles. This project has made great strides in reaching one of the UN's MDG targets, in reducing child mortality, by providing essential medical support to Rwanda's most far-flung locations.
Another ground-breaking health development emerging out of Africa this year is the rise in free health apps. One app that has seen huge engagement throughout Africa is the "Hello Doctor" app, currently available in 10 African countries and hundreds of local languages, it provides free essential healthcare information that is updated daily. It provides simple information that can be used to treat potentially life threatening illnesses, and most importantly, can be accessed without having to travel to a doctor. This app and others alike, can also be used for simple daily activities like checking the progress of a pregnancy.
A similar project that utilises mobile connectivity is the "Wireless Reach Initiative". This is a Kenyan based health programme targeted at individuals living with HIV. The programme utilises simple 3G connectivity (which is becoming much more widespread throughout Africa), to help antiretroviral therapy (ART) patients to manage their care. As successful ART treatment is dependent on taking the right dose of medication at the right time every day, this app can help patients stay on top of it. This simple app is providing a health innovation with the potential to help millions of Kenyans living with HIV to lead better lives and prevent them from passing on the disease.
By utilising a technology already present and becoming progressively more common in many people's lives, the mobile phone, these apps are creating a realistic and accessible technology with the potential to help millions of Africans.